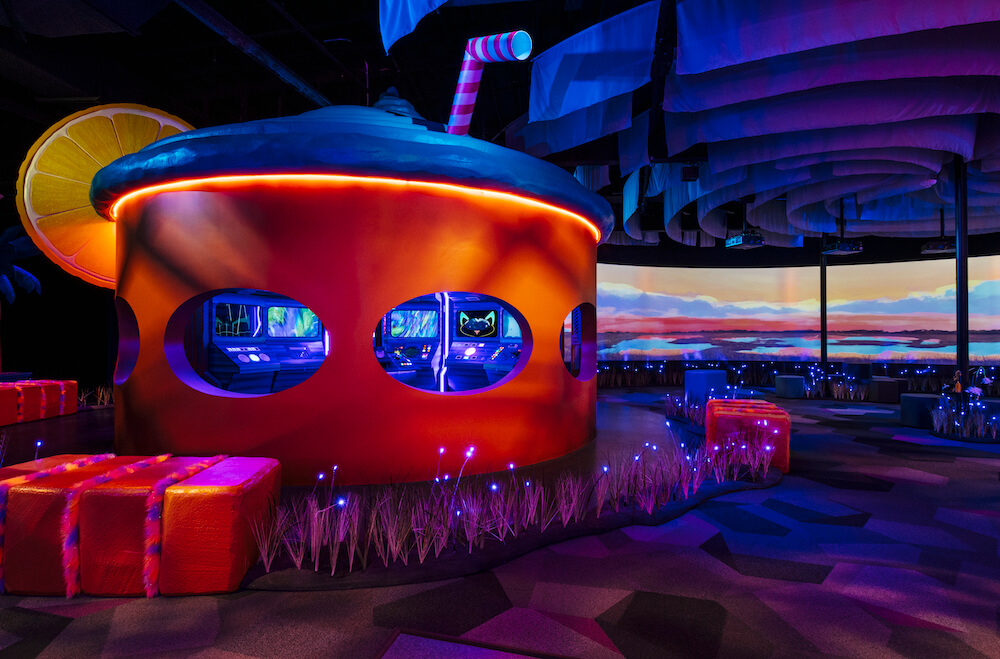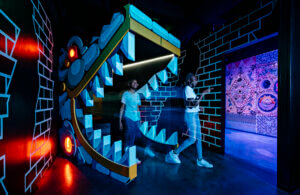 Haven't been to Fairgrounds St. Pete yet? It's the permanent indoor immersive, explorable art and technology experience celebrating weird, wacky, wonderful Florida. Over 60 local and international artists were commissioned to make art for you to immerse yourself in and enjoy – we invite everyone to come and Escape Reality!
Located in St. Pete's Warehouse Arts District and an anchor tenant of 
The Factory St. Pete
's cultural campus, Fairgrounds' inaugural exhibition showcases works by nationally recognized and emerging artists, all with ties to Florida, providing a platform to showcase their work and experiment with new ideas.
Owners Mikhail and Olivia Mansion had always wanted to collaborate on a project and together founded, OK! Transmit, an art and technology meet up in St. Pete, dedicated to building a community of artists and technologists.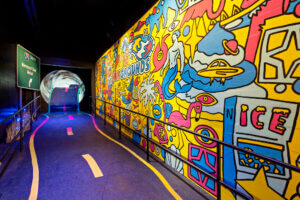 As fate would have it, in 2019, Mikhail Mansion was connected with Liz Dimmit, a cultural strategist wanting to create an immersive arts destination in St. Pete. A few short weeks after meeting, Mikhail and Olivia began consulting with Liz on ideation for Fairgrounds St. Pete. A short time after that, they became partners and co-founders of Fairgrounds St. Pete. Today, all of the owners are incredibly proud of what they've built in less than two years, with the help of their team of 45 employees.
Fairgrounds St. Pete is centered around developing original, storyful and immersive experiences that transform the ways we experience art and technology. "We believe that art and technology should be inclusive, accessible and build community," Olivia Mansion, Director of Communications/Co-Founder, said.
"Fairgrounds St. Pete is evolving how stories are told and innovating new ways to create shared experiences. From the moment you step through the doors to when your quest concludes, all paths at Fairgrounds St. Pete provide opportunities for engagement and interactivity. Our goal is to excite the imagination and create meaningful shared adventures."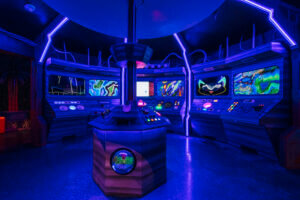 What's coming up?
In late January 2022, Fairgrounds St. Pete will be unveiling a new immersive installation titled Myriad Loops by internationally acclaimed South Florida artist Francesco Lo Castro. "Myriad Loops" features 360-degree projection-mapped animation based on Lo Castro's unique style of artwork as well as a soundtrack he composed. Unlike any work at Fairgrounds St. Pete, "Myriad Loops", places the viewer in the eye of a storm, to be carried away into an abstract vortex of geometry and light.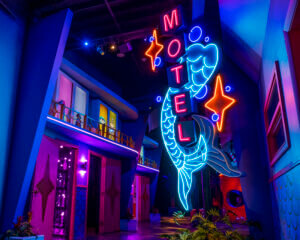 Why St. Pete?
"We chose St. Pete because it has a beautiful tight-knit community which already celebrates arts and culture. When we share the concept, people always say, 'This is so St. Pete,'" Mansion said.
Through exhibits, events, workshops, and creative immersive education programs, Fairgrounds St. Pete is a leader for arts innovation and an economic engine for local artists and craftspeople.
"We believe in art for all, joy for all, play for all. Whether it is your first, or fiftieth, time visiting, there is always something new to discover at Fairgrounds St. Pete!"