As one of the oldest leadership programs in America and a division of the St. Petersburg Area Chamber of Commerce, Leadership St. Pete® seeks to identify, recruit and develop leaders who represent the diversity of our local community. Through a dynamic, intensive, interactive, six-month experience, Leadership St. Pete is customized to provide a curriculum that enhances community acumen to develop the future leaders who will assume roles in the Chamber and other community organizations.
LSP challenges its class members to view issues in our community, state, and nation as opportunities. Through class interaction and discussions with community leaders, LSP stimulates creative thinking, and, ultimately, community leaders emerge with new resources and knowledge to face their everyday challenges.
LSP includes three leadership development events: Opening Retreat, Mid-year Retreat, and Closing Retreat. Provided by the Eckerd College Leadership Development Institute, class members receive high-quality, assessment-based leadership development designed to help individuals, teams, and organizations achieve their full potential. Participants enjoy high energy, team building activities with immediate personal and professional insights to bring back to their organizations.
What Can You Expect From LSP?
LSP challenges you to look at the problems and decision-making processes in our community, state and nation. You can expect a lot of interaction among class members and face-to-face contact with community leaders that will stimulate creative thinking and help identify ways class members can become more involved in our community. Each participant will assist in planning a seminar in collaboration with your fellow team members. Additionally, throughout the program you will be collaborating with others on a large class project that benefits a local nonprofit organization, always culminating in at least one full day of work.
​
Participant Information
Participants in the program are referred to as "class members." LSP class members are selected by the Planning Committee from candidates who submit a written application and participate in a face-to-face interview process.
What is the Timeline for a Typical LSP Class Year?
The LSP Planning Committee spends six months (July – December) securing sponsorships and determining the overall content and goals of the seminars which occur between December and June.
Applications for the upcoming LSP class year have traditionally been made available at the end of August, with a deadline to submit completed applications by the end of September. Interviews then take place in November with the final class members selected by the end of November. The new class is introduced to the LSP Alumni Association at the December Holiday Social. Seminars run from December through May. The planning process for the next year then begins in July.
Who is Eligible to Apply?
You must do business or live in the St. Petersburg area and be at least 22 years of age at the time of signing your application. Nominees must have the full support of the organization, corporation or company they represent.
Applications become available online at the end of the summer for the following year and is an online webform that must be submitted electronically by the due date.
Applications are reviewed through a completely blind process by the selection committee. Please note that there is no ability to save answers to the application. Therefore, it is recommended that the questions be reviewed in advanced (click Apply below) and worked on in a document before copying and pasting final answers into the form for submission. Candidates must complete the form in its entirety and submit it in the same session.
Finalists will be selected for in-person interviews to be held in early November.
LSP's curriculum is updated annually to remain relevant, with survey data collected and compiled throughout the year to continually improve each year's seminars. You can count on a program that covers the most important facets of our great city with seminar programming that is engaging, interactive, and timely. Examples of seminars include: Unique St. Pete, Diversity, Healthcare, Education, State Government, Local Government, and St. Pete Culture.
Each class gives back to our community through The Class Project, a civic-engagement, physical facility improvement project that is completed during the term of the program. A typical Class Project requires the class to create awareness, fundraise, and work hands-on at the nonprofit's site to rehab a location in need of some tender loving care. It's up to the class to organize roles and figure out how to accomplish this task!
Since 1970, each Leadership St. Pete® (LSP) Class has graduated leaving footprints in our community through their annual class project. Each class is tasked with identifying a local nonprofit organization in need of a few helping hands in order to reach their goals.
Through LSP's annual project, each class works together to organize, plan, market, fundraise, and put in the physical labor needed to make the effort a success.
The most recent classes have exceeded their goals by fundraising more than $50,000 in cash and in-kind donations.
LSP is proud to be supported and enthusiastically motivated by several of St. Pete's community leaders, year after year. The class leverages this support to create what many like to call the "legacy project."
Leadership St. Pete Class Project Video
LSP is a volunteer run program of the St. Petersburg Area Chamber of Commerce. LSP leadership is comprised of an Executive Committee (EC) and a Planning Committee (PC). Applications to join the 2023 Planning Committee are now open. If you are an LSP alumni, apply here for PC or to be a Friend of LSP. The application deadline is Friday, June 24.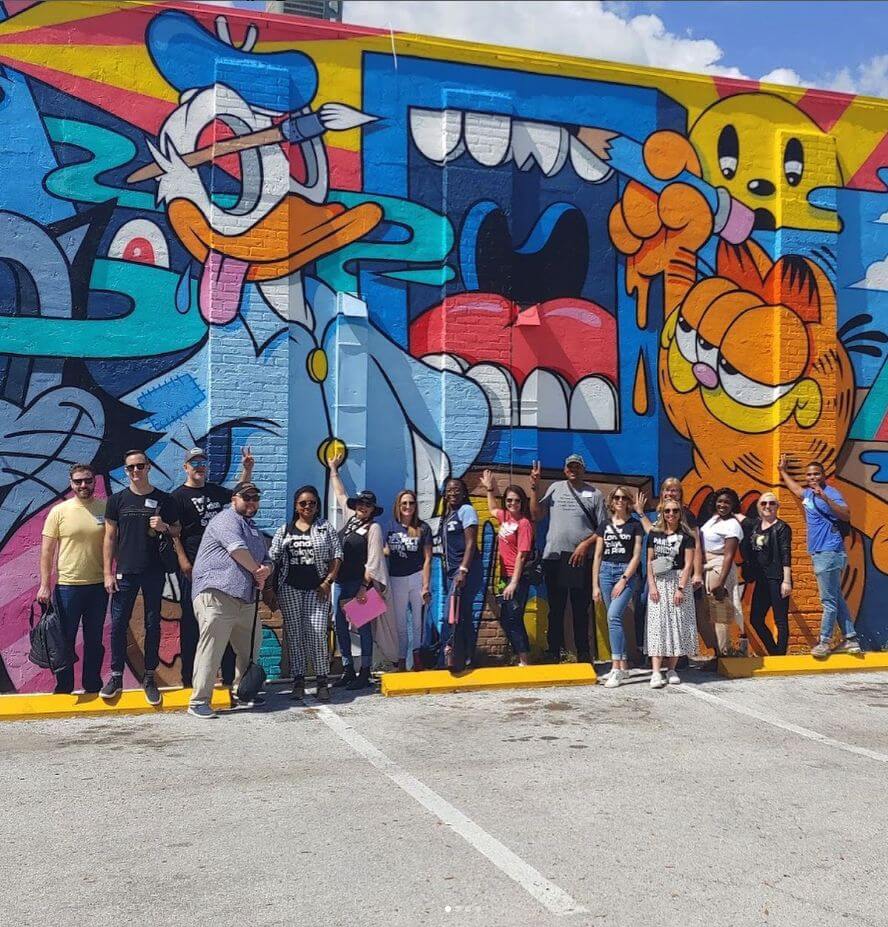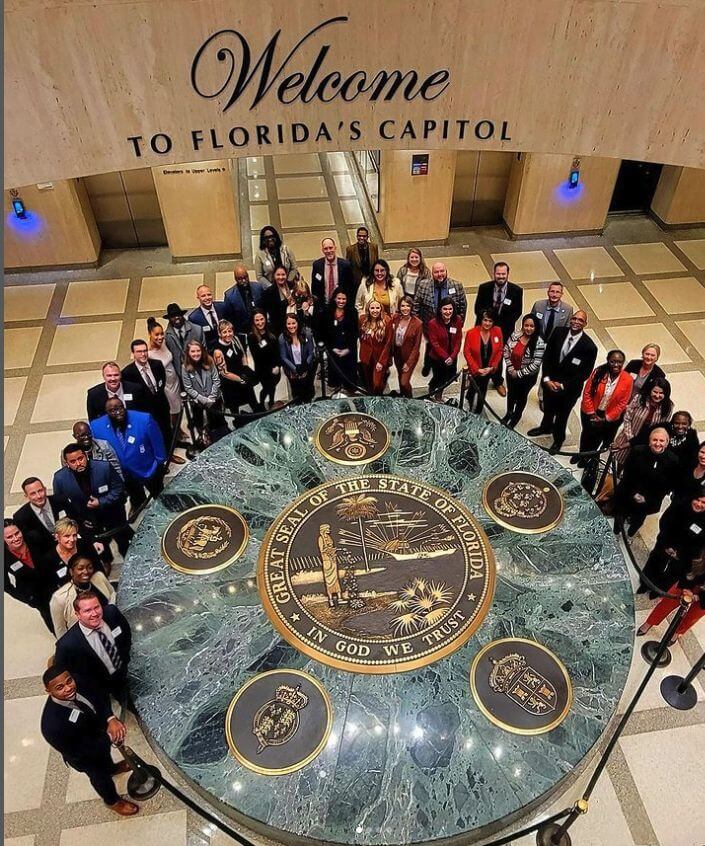 Candidates must do business or live in the St. Petersburg area and be at least 22 years of age at the time of signing their application. They must have the full support of the organization, corporation or company they represent.
To learn more about the program and to hear from recent graduates, attend one of our info sessions (TBA).

LSPAA Holiday Social: December 9, 2021       
Orientation Dinner: December 15, 2021
Opening Retreat (1-1⁄2 night stay): January 7-8, 2022
St. Pete History Seminar: January 18, 2022
Class Project Kickoff Meeting (Optional): January 25, 2022
Diversity, Equity & Inclusion Seminar: January 27, 2022
Class Project Scope Meeting (Optional): February 1, 2022
State Government Seminar (2 nights, 3 days): February 7-9, 2022
Environmental Sustainability: February 22, 2022
St. Pete Culture Seminar: March 3, 2022
Economic Development Seminar: March 15, 2022
Mid-Year Retreat: March 25, 2022
Criminal Justice Seminar: April 7, 2022
Education Seminar: April 21, 2022
Healthcare & Social Services Seminar: May 3, 2022
Local Government Seminar: May 18, 2022
Class Project Day: May 21, 2022
Applying Leadership: June 3, 2022
Closing Retreat: June 10, 2022
Class Project Ribbon Cutting: June 14, 2022
Graduation Dinner: June 16, 2022
Apply to be the 2023 Class Project Beneficiary
Check back in July 2022 for updates on the RFP and application.