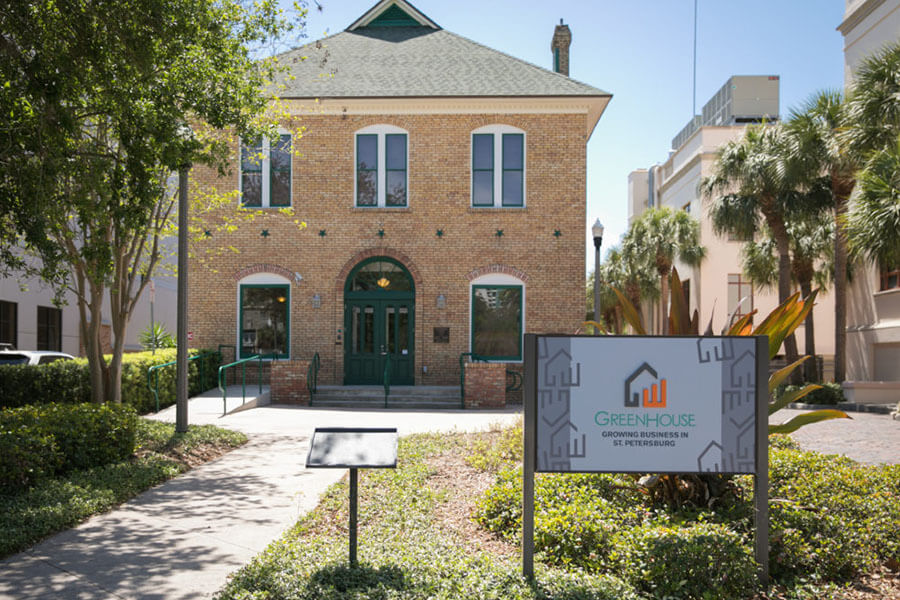 The Greenhouse is St. Petersburg's resource for business startup and growth, providing business owners and entrepreneurs with the education, resources, and assistance necessary to thrive in the local economy.
Comprised of an expert team from the City of St. Petersburg and the St. Petersburg Area Chamber of Commerce, they are committed to the economic development and business growth of St. Petersburg and the Tampa Bay region.
Utilizing a wide network of service partners, The Greenhouse opens the door to business success in our community. Learn more about The Greenhouse, the services they offer, and how to get engaged.
The Entrepreneurial Academy® is an eight-week in-person course that teaches existing and future entrepreneurs the essentials of starting and owning a business.
With a combination of subject-matter experts, direct mentoring, coaching opportunities, pitch practice, and timely content, the Entrepreneurial Academy highlights the fundamentals of launching and growing a business.
The program is invaluable for businesses at any stage, from guiding startups in their first years of operation to supporting established businesses looking to grow within their chosen industries.
The weekly content is practical, applied and resource-rich. Over 8 weeks, students have an opportunity to learn through compelling stories of entrepreneurship, resilience, and innovation.
These instructors and business leaders share one thread in common– they're connections for life. These relationships don't end when the program does.
Classes are held every Monday night from 6:00 pm – 9:00 during Spring and Fall semesters.
Tuition
Tuition for the program is $449 and includes:

All participants will be invited to take an Entrepreneurial Mindset Profile (EMP) assessment ($45 value). Upon successful completion of Entrepreneurial Academy®, graduates will receive a free 1-year Startup membership to the St. Petersburg Area Chamber of Commerce ($400 value).
To be eligible for the free Chamber membership, participants must attend 6 of the 8 educational sessions.
**NOTE: There are no refunds for this program once a participant confirms enrollment.**
2023 Fall Semester Dates: September 18 - November 6
Deadline to apply:
2024 Spring Semester Dates: TBA
Startup Academy applications due: July 28, 2023. Click here to apply!
Startup Academy semester: August 7 - August 28, 2023
Fall EA Academy applications due: August 28, 2023
Fall EA Academy semester: September 11 - October 30, 2023
St. Pete Pitch Night: December 12, 2023
Spring 2024 Startup Academy: TBA
Spring 2024 Entrepreneurial Academy: TBA