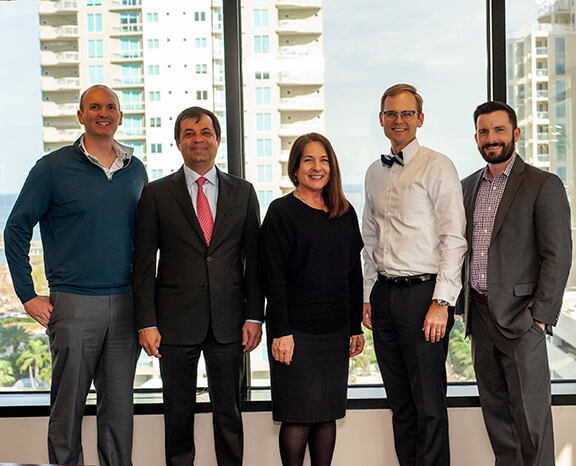 In April of 1970, investment veterans Bill Manning and Bill Napier partnered to create Manning & Napier. In the midst of a two-year bear market with a rise in inflation, price and wage controls, and an overpriced market, we needed to add real value for our clients in order to survive and grow. From the beginning, they believed our commitment to client experience allowed us to build strong, long-lasting relationships with clients and partners, even in difficult environments.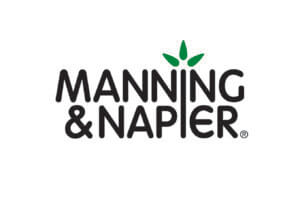 For the last 50 years, we've specialized in investment solutions for individual investors, institutional investors, financial advisors, and retirement plan advisors. We guide clients toward their financial goals in even the most challenging markets.
Originally founded in Rochester, NY, Manning & Napier opened their Florida headquarters in St. Petersburg in 2004. Today, the company employs more than 280 people across the United States and our St. Petersburg office is home to our Director of Investments,
Managing Director of Wealth Management, and several financial consultants and research analysts. While Manning & Napier trades publicly on the NYSE, we take pride in having a large percentage of ownership by employees, board, and senior leadership.
WHAT SETS YOU APART FROM COMPETITORS?
Our in-house, proprietary investment strategies have been time-tested over the 50+ years we've been in business and the many market environments we've encountered since then. Our analysts are trained to take advantage of volatility in financial markets to capture exciting opportunities for your portfolio, with a focus on producing competitive results over the long term.
We also strive to go above and beyond investment management by offering a comprehensive suite of planning tools. Our team can help with all aspects of a financial plan (estate planning, tax planning, trust services, etc.), or work with any existing professionals already in the mix. We also offer an endowment and foundation planning service that consults with our non-profit clients on topics like fundraising, board and staff education, spending policy analysis, and more.
We are a big enough to provide world-class investment products and technology, but small enough to personally know our clients' hopes, dreams, and family members. Whether we are helping a non-profit grow their endowment, an individual retire comfortably, or an advisor develop their practice; their goals are our goals.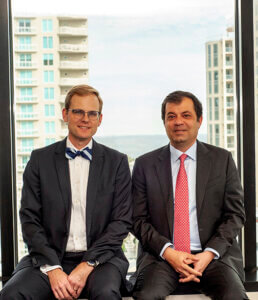 WHY ST. PETE FOR YOUR BUSINESS?
When we opened our St. Petersburg location in 2004, we knew it was the right spot for our firm. As investors we know a good investment when we see it, and St. Pete was an undervalued city at that time with immense potential. Many of our long-term clients have relocated to the Gulf Coast of Florida over the past decades, and St. Pete's central location made it the ideal hub to service them and grow our business. Opening the office in St Pete's vibrant downtown made perfect sense as a location that provides an excellent quality of life for our employees, while also being conveniently located for our clients.
ANY RECENT WINS OR ACCOMPLISHMENTS YOU WANT TO SHARE?
Our research teams were able to capitalize on the market noise of 2020 to add value to our clients' portfolios, and we were subsequently named #1 Active Fund Family for 2020 by Barron's (visit our awards page for more information: https://www.manning-napier.com/company/awards).
Just in our Wealth Management group, we have approximately 2,900 clients and almost $9 billion in Wealth Management group assets (the firm has a total of approximately $22 billion in total assets under management) as of 06/30/2021.
We are focused on providing excellent results for our clients, so we were excited to receive this highly sought-after accolade.
ABOUT THE TEAM: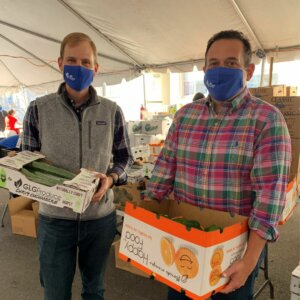 Greg Holden, Managing Director of Wealth Management, and his team work with clients throughout the St. Pete/Tampa region and Southeastern US. Greg is a past chair of the St. Pete Chamber Board and the second-youngest person ever to hold that title. He was a member of the Business Observer's 2017 "40 Under 40" class and a nominee for the Good 'Burger "Most Valuable 'Burger" award. He is a graduate of Leadership St. Pete (2009) and Leadership Florida (32). Greg is a passionate advocate for the St. Petersburg area as well as the firm's clients.
Ryan Stiphany, a Financial Consultant in the St. Pete office, takes pride in working with our clients and shares a similar passion for The 'Burg. Ryan moved to St Pete in 2015 and has volunteered with local youth programs, as well as with the Tampa Bay Rowdies.
"St. Petersburg and Manning & Napier have always been a good fit. It all comes down to building long-term trusted relationships and putting people first. Every great city has a great Chamber, and we are proud to have supported the Chamber and its great work to make St. Petersburg the world-class city we all know it to be.
Our firm made a great investment in planting our flag here almost 15 years ago – we are proud to be one of the early members of what is now a burgeoning financial services cluster. It has been immensely rewarding to have the opportunity to participate in shaping the future of this community and we are excited about what lies ahead and continuing to be a part of that work." – Greg Holden, Managing Director of Wealth Management