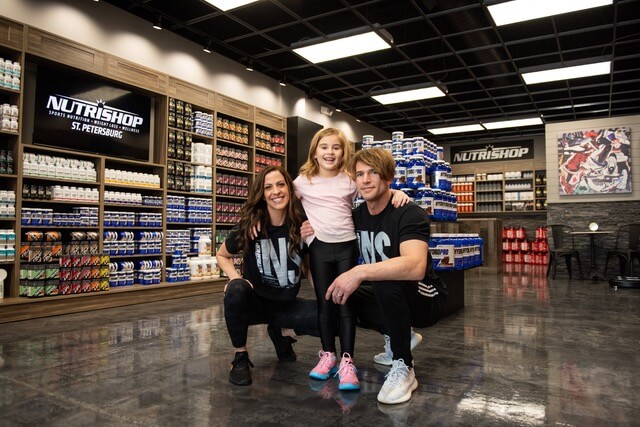 Since its inception, Nutrishop has become a trusted source for wellness, weight loss, nutrition, sports performance and more. In addition to offering guaranteed low prices on top-industry brands along with a vast array of first-rate exclusive products – from protein powders, thermogenics, vitamins and nootropics, to immune-support products, pre-workouts, vegan formulas, and more – Nutrishop provides unparalleled customer-centric services. These include free custom meal plans, free body composition analysis scans, transformation challenges, nutritional guidance and coaching, and more. We are dedicated to taking the time to get to know our customers, discover their wellness goals, design a custom meal plan for their specific needs, track their progress, and help them every step of the way.
ABOUT THE OWNERS
Growing up, Shaun Freeman competed in in-line skating and snowboarding. Later in life, he worked long, arduous hours in the construction union in Chicago. During this time, he realized nutrition is absolutely vital for a healthy life so he started gleaning all the knowledge he could on the topic. He earned personal training and nutrition certifications through NASM and ISSA, worked for national fitness clubs and managed multiple retail supplement locations, including the Nutrishop location in South Tampa, where he spent five years before branching out on his own.
"Our goal is to become an integral part of St. Pete.  We are dedicated to improving the overall health and quality of life for the community through education and local partnerships. Together, we want to make health and wellness education available to everyone.  We are also open to hosting events and seminars for the community. Anything we can do to get involved we are excited for the opportunity!"
Gabriella Freeman spent time in corporate America working with C-level executives at SYKES. She spent her younger years at home and abroad fighting for social justice. Today, she helps her husband with Nutrishop's day-to-day operations, marketing and business development. The two moved to Tampa from Chicago six years ago to raise their daughter, Aria.
HOW IT ALL STARTED
Founder and CEO, Bryon McLendon, turned down a lucrative career opportunity to pursue his passion of helping others live a fit, happy and healthy lifestyle. Unemployed yet determined, he drained his bank account and opened his first retail nutrition store in 1997. With laser-sharp focus, he went to work every single day, morning to night. His wife, Tania, a personal trainer and former college track athlete, was his rock, encouraging him along the way. Within two years, Bryon had opened five locations.
After gaining several years of knowledge and expertise in the industry, Bryon decided to start his very own company, thus NUTRISHOP®, Inc. was born with the first store opening in Norco, California in 2003. Bryon extended the opportunity to other like-minded, hard-working entrepreneurs who were passionate about helping others. Founded on the pillars of honesty, integrity, trust, opportunity and good ol' fashioned hard work, our NUTRISHOP® family grew.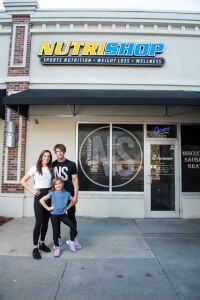 "Choosing St. Pete was easy for our family.  We had spent a great deal of time in the community.  We knew we wanted to be a part of a St. Pete because of how the residents support their local businesses, art, culture and healthy living.  Shaun wanted to share his passion for health and wellness and make an impact on a growing community.  We are excited to become a part of the community and help members become healthier, happier versions of themselves."
After spending 5 years running the Nutrishop South Tampa, Shaun was ready to branch off on his own to open a new location and expand his services to a new community.
"We are a family-owned and operated business.  At this time it is just us, husband and wife, along with our sponsored ambassador.  We are currently building partnerships with local health, wellness and fitness groups, and are open to expanding our partnerships to other health and fitness companies as well as corporate partnerships."
For Our Local Heroes
Nutrishop is proud to offer a Local Heroes Discount of 15% off to Active Military, Veterans and First Responders.