Kelly's Homemade Ice Cream was born from a passion for creating smiles with delicious treats. All of their flavors, which include traditional ice cream, dairy-free ice cream, and sorbets, are still made right at their main location in Audubon Park.
"We aren't owned by a big corporation; we are a family-owned and community-supported business," Founder, Kelly Seidl, said.
Their founder, Kelly, began working in a local ice cream shop while in college, where she studied nursing. Later, she and her husband Scott bought a commercial ice cream maker and started selling homemade treats at local farmers' markets from an adorable pink and white food truck. In 2015, the couple opened their first brick-and-mortar location in Orlando's Audubon Park, and have since expanded to 12 locations throughout Central Florida.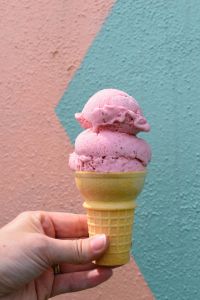 WHY EXPAND TO ST. PETE? 
"St. Pete is known for its tight-knit community that embraces and values local, independent businesses," Kelly said. "Kelly's Homemade Ice Cream is locally created, owned, and operated, and collaboration and community are extremely important to us. When we decided we wanted to expand to Florida's vibrant West Coast, St. Pete, with its cozy local vibe, was the perfect fit."
Kelly's Homemade Ice Cream is Florida-proud, and strives to both represent and to give back to the communities in which their stores are located.
"We look forward to continuing to get to know our new neighbors in St. Pete. Look for fun collaborations with other local businesses in the future!"
ANY EXCITING EVENTS OR CELEBRATINGS COMING UP?
Kelly's Ice Cream will also be providing ice cream samples at the next Chamber Community Connection Hosted by Dr. BBQ on August 11 where both Chamber members and non-members are welcome!
FOLLOW @KELLYSHOMEMADEICECREAM