Company Name: Florida Print Solutions
Industry: Printing
Years in business: 10
Website:
floridaprintsolutions.com

Contact:
Danielle Findley
sales@flprintsolutions.com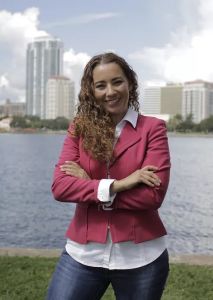 "St. Petersburg Florida not only is one of the most beautiful places to live, it is also a vibrant city geared towards positive growth and appeal of working and living in paradise."
With only $20.00 in her pocket, and a dream of creating a company that is dedicated to becoming part of the tapestry of this fabulous city, Danielle Findley, President and CEO of Florida Print Solutions Inc., took a chance on creating a printing company that is eclectic in nature and dedicated to providing the finest in printed material, meeting the needs of local businesses and individuals.
Over a dozen jobs in jeopardy due to a decline in the economy at the time were saved by her vision and passion, and more jobs were created at Florida Print Solutions as a result of her dream. Putting her entrepreneurial spirit, grit and good old fashioned hard work in place, Danielle has taken her vision to the next level and has created a company that provides the finest quality of design and print in the industry today.
The driving force behind her courage was not only the dream of becoming a success in her own right, but was also the love of her beloved son Alex, whom was three years old when she started her adventure 10 years ago. Together, with faith and only each other, they forged on together to fulfill a legacy dream, proving that if you believe hard enough, and are willing to sacrifice, all things are possible.
Now celebrating 10 years of being in business, Findley is an example of what happens when an entrepreneur has an idea, takes risks, and then perseveres to make it happen.
"Our community is what sets us apart from our competitors," Findley said. "Community and support of fellow businesses and organizations drives our team to not only create the finest in printed material, but dedicate themselves to efforts locally and to help benefit many organizations, thus becoming a part of the tapestry of our beloved city."
RECENT MILESTONES/CELEBRATIONS
September 12 marked their 10 year anniversary of being in business!
SERVICES
Printing & Copying, Graphic Design & Logo Design, High Speed Digital Offset Printing, Traditional Offset Printing, Variable Data Printing, Large Format Printing, UV & Laminating Services, Finishing & Bindery Solutions, Numbering, Scoring, Die Cutting, Foil & Embossing, Direct Mail Marketing, List Acquisition, Database Management, Legal Copying & Scanning, Mailing Services, Fulfillment Services.