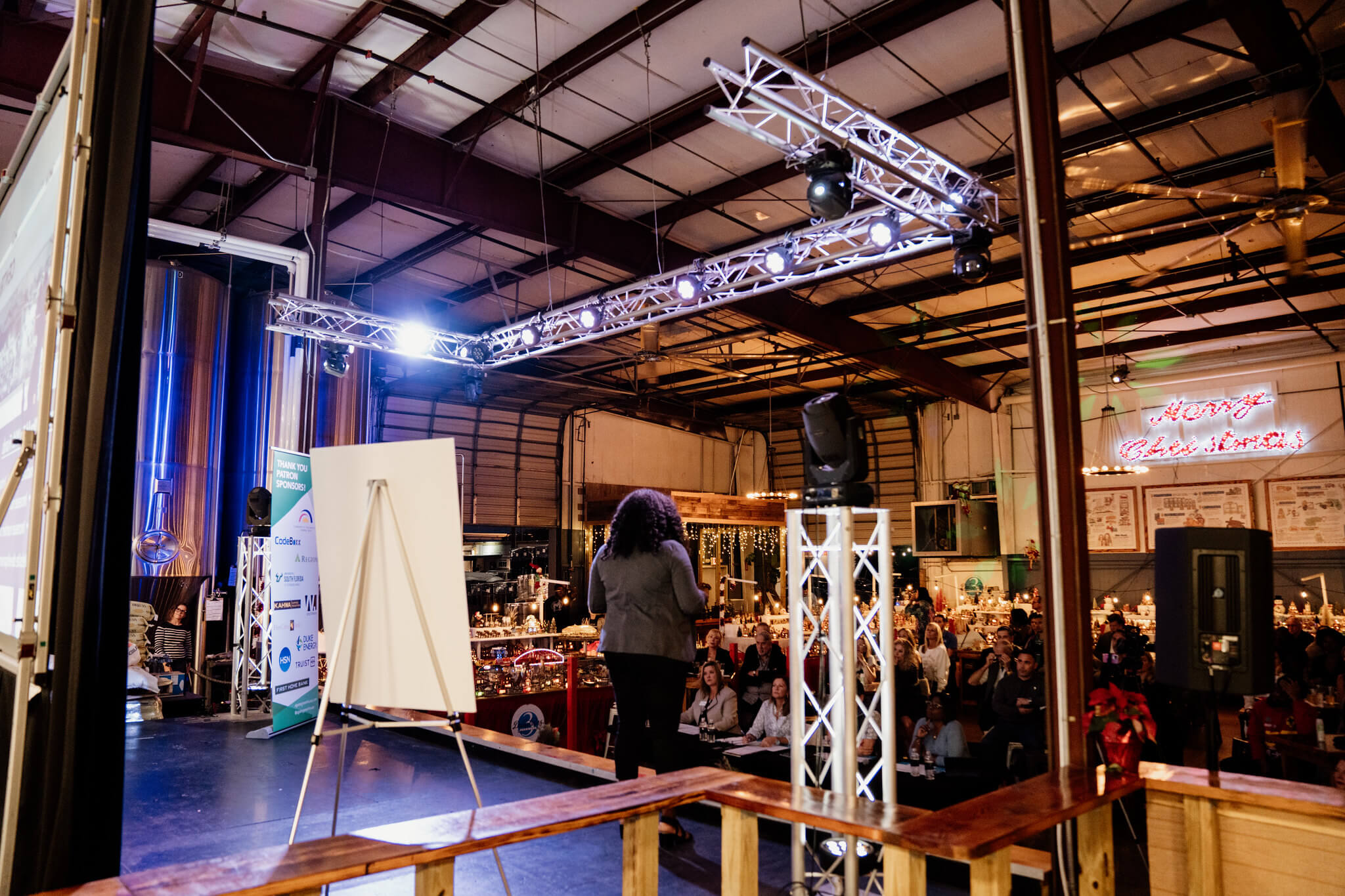 Five local entrepreneurs to pitch their startups for a chance to win $5,000 in cash prize
St. Pete Pitch Night returns live on December 13, 2022 and features startup businesses ready to make an impact in St. Pete and beyond. The event celebrates the local entrepreneurial community while cheering on a friendly competition and community connections.
St. Pete Pitch Night focuses on showcasing, elevating and seeding community-based businesses. The Greenhouse is proud to partner with Regions Bank & BayFirst to bring back the second round of St. Pete Pitch Night 2022, where five local start-ups can win $5,000 in funding to accelerate their business growth. Join The Greenhouse at 3 Daughters Brewing to cheer on the following five local entrepreneur participants that were selected to pitch: Addio, Home Dental To You, Planet Vs People, Tech & Flow Ventures, and ARackAbove.
When: December 13, 2022, 5:30 – 7:30 PM
Where: 3 Daughters Brewing (222 22nd St S, Saint Petersburg, FL 33712)
Tickets: FREE to attend, please RSVP at the link below.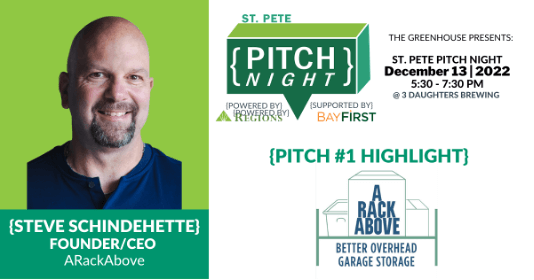 Steve Schindehette, Founder/CEO
ARackAbove
Steve grew up in the Chicago area and attended college at the University of North Carolina at Wilmington, where he earned a degree in Marine Science.
Driven for his passion for great sound, Steve started an audio/video company in catering to high end home owners.
After the housing crash of 2008 Steve began questioning his future in A/V industry and decided to close his business.
He found a job in "Corporate America," but the frustration of sitting in I-4 traffic triggered them sell their home and move closer to their jobs. They moved into a condo that did not have a garage.
This forced Steve to rent a storage unit for their "stuff."
If it was not for the constant rearranging of their "stuff" in that storage unit, Steve would still be at his "corporate" job and ARackAbove would not exist!
I present to you Steve Schindehette (Shin-da-heady) of ARackAbove.
Xaviar Gray, Founder/CEO
Tech & Flow Ventures
Xaviar Gray is the CEO and Founder of Tech & Flow Ventures, a FinTech company founded in April of 2021. Over the last decade, this tech start-up extraordinaire honed his skills in Corporate America as a Financial Advisor & Banker to notable firms helping communities grow, develop, and retain their wealth on their financial journey. However, in these roles, he witnessed several companies offering valuable products and services that many customers needed more knowledge and comprehension to use. Thus Tech & Flow was born to bridge the wealth gap by creating financial education & digital resources that empower young professionals to reach their first $250K.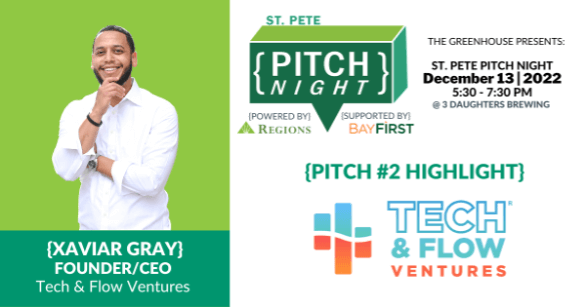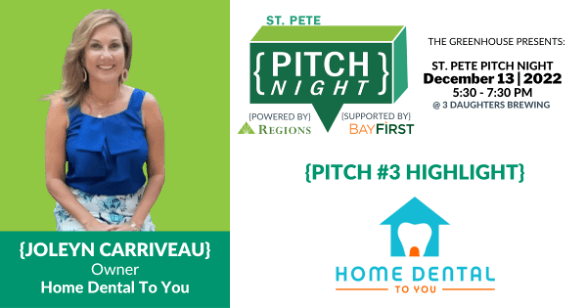 Joleyn Carriveau, Owner
Home Dental to You
Joleyn is a proud St Pete resident and accomplished Registered Dental Hygienist. She was inspired to initiate a mobile dental career, after watching her great aunt slowly lose her smile-- suffering from dental problems without access to dental care.
Upon moving to Florida in 2004 she vowed to change access to dental care by serving in Leadership & as President of the Florida Dental Hygienists' Association. Her efforts helped to support programs for "people with access to dental care" issues.
She has volunteered & worked with people from ages 1 to 102 providing comfortable and quality preventative dental care for all of her patients.
Inspired to cultivate more healthy smiles, Joleyn is honored & excited to launch an innovative mobile dental business, Home Dental To You that serves the greater St Pete area.  Home Dental to You benefits St Pete, fulfilling a need for people with "access-to-dental-care" challenges. It is a scalable innovative business model that doesn't currently exist. This unique service brings convenient, quality dental care to private homes and elder care facilities. Joleyn is grateful to lead the Home Dental to You team and serve the St Pete community!
Veronica Morejon, CEO
Planet Vs People
Planet Vs People was founded in Tampa, Florida by Veronica Morejon. Veronica has always worked in environmental causes. It was through working with accredited Climate Organizations (Our Climate, CCl, etc..), Marine Conservation facilities (The Florida Aquarium, Anna Maria Turtle Watch, etc…), and other NGOs like The Tampa Museum of Art that Veronica attained industry knowledge on sustainable fashion. Besides her work, Veronica has also been awarded grants to study and combat plastic pollution. Her latest grant, awarded in 2021 by The Tampa Bay Estuary Program, was used to study microfiber/ plastic pollution in Tampa's local waterways. Veronica (like many before her) discovered that synthetic fibers were more harmful to marine environments than any other synthetic product on the market. Veronica's earlier initiatives paved the way for what is now the first circular textile composting brand to date.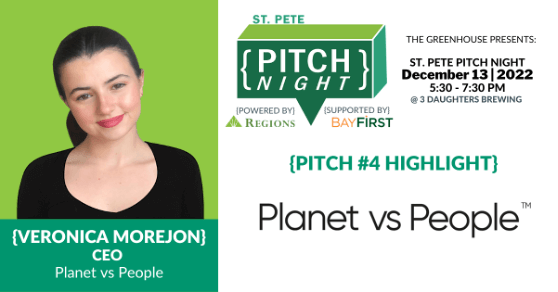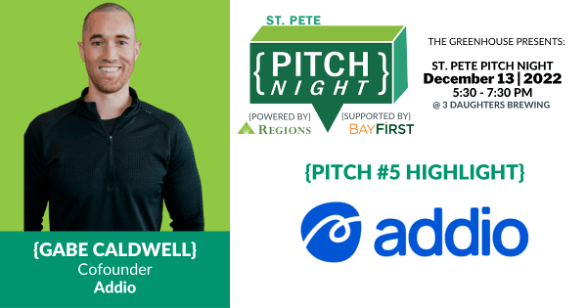 Gabe Caldwell, Cofounder
Addio
Gabe Caldwell is a seasoned Business Executive with +15 years experience in scaling company growth through strategic & channel partnerships. Gabe has founded, implemented & advised global partnership programs for companies big and small that resulted in +100% revenue growth, thriving partner communities and several acquisitions. Currently, Gabe is the Cofounder & Head of Partnerships at Addio.  Addio is a digital end-of-life planning software that guides families through creating an end-of-plan from the convenience of their own home.  Gabe manages Addio's thriving partner program made up of financial advisors, estate attorneys, home care agencies and employers that deliver Addio out to families around the world.