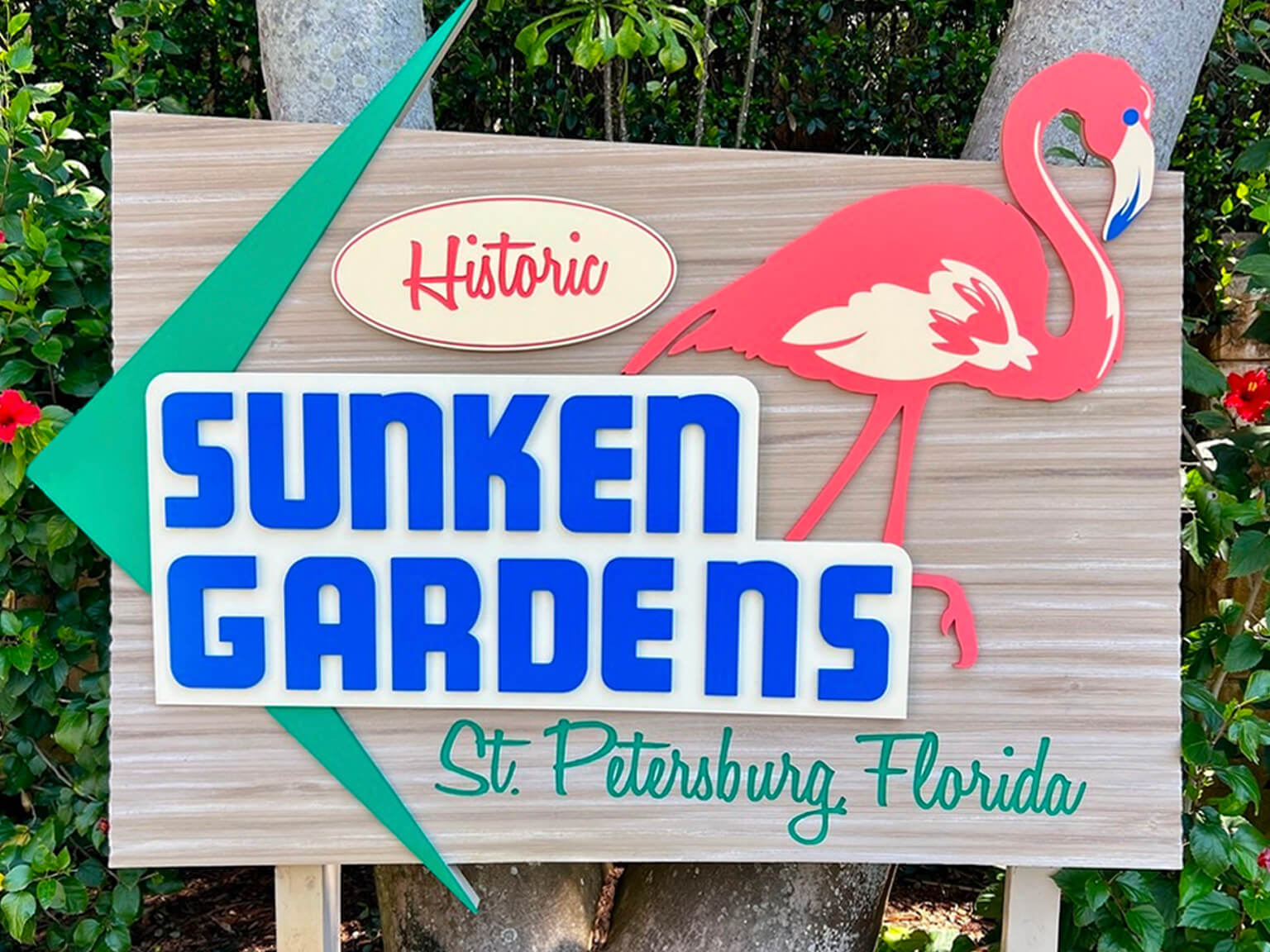 Guest Blog: The Historic Sunken Gardens
About The Sunken Gardens Forever Foundation
The Sunken Gardens Forever Foundation (SGFF) is a private, not-for-profit fund-raising corporation whose mission is to support the City of St. Petersburg's Sunken Gardens and preserve its legacy as a historic landmark through education and philanthropy. We raise money from our community to support important projects outside the scope of the City's operating budget to sustain and enhance this treasured cultural resource. We also provide enhancements to educational programming and advocate for the preservation of Sunken Gardens' unique historic character.
A visit to our landmark oasis is an escape from the bustle and distraction of the city. Roaming among lush plantings and winding pathways, you will lose yourself in this botanical retreat. Nearly 90 years old, Sunken Gardens offers a striking display of foliage, color and dramatic scale… set among winding pathways, water elements, exotic birds, and beautiful landscape vignettes. A visit to Sunken Gardens is a unique and refreshing natural experience for people of all ages!
History
Sunken Gardens occupies over 4 acres of land on the east side of 4th Street, between 18th and 20th Avenues North. Originally a water-filled sinkhole, the land was purchased by George and Eula Turner in 1911. The Turners were avid gardeners who wanted to take advantage of the nutrient-rich soils lying beneath the pond. Mr. Turner created a drainage system to empty the pond and then spread the rich soil across the property. Originally, the land was used for personal and commercial fruit and vegetable gardening. Eventually, the Turners cultivated beautiful gardens, including fountains, ponds, and walkways. In 1934 they began charging visitors 15 cents to tour the property. In 1936, the perimeter walls were first constructed.
The location proved to be optimal for tourism as 4th Street was the main north-south access through the area, helping Sunken Gardens to become a well-known roadside tourist attraction. The main building was constructed under a commercial lease in 1926 and became St. Petersburg's first major refrigerated grocery market. It did not last long, and the structure saw numerous uses thereafter, including "The Winter Garden" amusement park, the American Legion and the Coca-Cola Bottling Company.
Sunken Gardens remained a Turner family business for three generations. In the 50's and 60's it was a grand tourist attraction, with over 200 billboards across the Southeast and many celebrities coming for visits. The entrance moved from 18th Avenue N to 4th Street in 1952, into a building that has since been torn down. In 1966, the family bought the large commercial building on 4th Street, originally constructed as a market in 1926. A grand entrance was added, as well as a wax museum (King of King's Exhibit) and a large gift shop (marketed as the "world's largest gift shop") Additional changes in the 60's and 70's included the addition of many animals and hand-crafted faux stone animal exhibits. By the early 1970s yearly attendance was over 200,000/year.
The City of St. Petersburg purchased Sunken Gardens in 1999 with funds from a voter-approved tax. With the original vision in mind, the city works to preserve this historic botanical garden and use it to provide cultural and educational opportunities to the community. Today, thousands of visitors a year enjoy the serene garden experience of Sunken Gardens. The space serves residents and visitors with garden tours, horticultural programs, and special events. Over 100 years after George Turner Sr. began investing in his hobby, Sunken Gardens remains a tranquil oasis nestled in the heart of St. Petersburg.
 Botany
As visitors stroll around the many decorated paths in Sunken Gardens, one can't help but wonder how all these plants can grow so densely and are so healthy.  Besides the excellent care that the staff provides, the basis of the health of the garden derives from the nutrient-rich material present in the original sinkhole that the founders purchased and turned into a subtropical garden.  In the beginning, fruits and vegetables were raised and sold to visitors, as the primary source of revenue, however after many years of planting many different subtropical trees, shrubs, ferns, cycads, palms and vines, the founders noticed that visitors preferred looking around the garden instead of just buying fruits and vegetables.
Today, the observant guest can still find at least 15 different fruit bearing plants (including orange, lime, cherry, mango, avocado, starfruit, papaya, lychee, june plum, jackfruit, bananas, coconut palms, Sapodilla, Pandanus, passion fruit, monstera and fig), some that are not all so easy to find.
However, over the years, the non-fruit bearing plants, including the trees (like southern live oaks, southern magnolias, crape myrtles, rainbow eucalyptus and plumeria), grasses (like palms, bamboos, gingers, heliconias and birds of paradise), epiphytes (bromeliads and orchids), ferns and cycads have taken over as the main points of botanical interest in the garden.
Much of the beauty in the garden derives from plants that either exhibit very colorful leaves throughout the year (like Arboricola, Sanchazia, Ti plants, song of India, pothos vines, variegated ginger and crotons), or that flower throughout most or all of the year (like Thyrallis, Jatropha, crown of thorns, fire spike, hibiscus, bougainvillea and rouge plants) or have sensational blooms one or more times a year (like angel trumpets, Crinum lilies, orchids, bromeliads, plumeria, camelias, azaleas, clerodendrums, gardenias, jasmine and the golden chalice vine).
The butterfly garden utilizes many plants serving either the needs of the butterfly (flower nectar) or their caterpillars (leaf material) such as the pentas, blue plumbagos, desert cassia, panama rose, shrimp plants, angel trumpets, milkweed, weeping yaupon holley and the crown of thorns.
Rounding out the types of plants found at the garden are desert plants such as cactus and agave and many species of each are displayed.
And for those visitors, who prefer animals, Sunken Gardens features a flamboyance of 21 beautiful pink flamingos, six macaws, two Amazon parrots, two cockatoos and a laughing kookaburra. Additionally, you will find a shaded pond where a school of Koi fish flourish.
Consider visiting our local treasure and treating yourself, your family and friends to a special experience!
For additional information about The Sunken Gardens Forever Foundation you can visit our website - https://sunkengardensfoundation.org/