Guide to Parking for a Chamber Meeting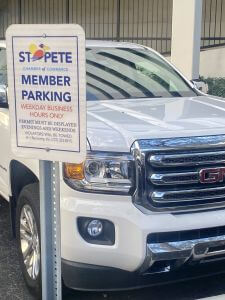 There are several parking options when visiting the Chamber building for meetings. On-street parking immediately surrounding the building includes parking meters which are enforced beginning at 9am and cost $1 per hour. North of 2nd Avenue North on-street parking is generally free with a 2 hour limit – just be sure to look at the signs which will indicate whether the space is 2 hour limited, a loading zone, etc. Most meetings last less than 2 hours so these options will usually work.
There are also a limited number of spaces located in the parking lot attached to our building which are marked "Chamber Member Parking". Please be sure not to park in spaces reserved for others as those are paid for and expected to be open for the people they are assigned to. Your vehicle may be towed if you park in a space belonging to someone else.
Sometimes the lot and street parking may be hard to find, depending on demand at the time. Luckily, we are located ½ block away from the largest public parking garage in St. Petersburg – the Sundial Garage. Enter from the 2nd Street side between 1st and 2nd Avenue North, park in the first available space, and once you come down the north elevator to the ground floor, cross the alley and come in through the parking lot entrance. The garage charges $1 per hour.
For additional parking resources including a map, please visit the City of St. Petersburg website.