Chamber Members Visit Brightline in Orlando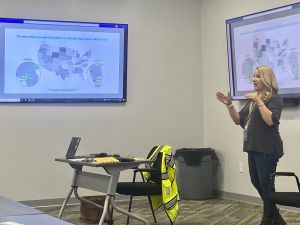 Seventeen members of the St. Petersburg Chamber participated in a one day Thinking Outside The Burg trip to Orlando on February 7th.  The participants visited the Vehicle Maintenance Facility, which is located about a mile south of Orlando International Airport.  Brightline's Orlando Station at Orlando International Airport will be located in the airport's new Train Station adjacent to Terminal C.  
Brightline's Orlando Extension is a $2.7B, 168 mile long project.  The train will begin carrying passengers between Miami and Orlando by the end of 2023.  The trip from South Florida to Central Florida will take around 3 hours and 15 minutes.  Ticket prices vary depending on travel specifics and class of service.  Brightline has two classes of service - Premium and Smart.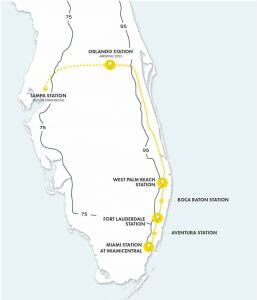 One of the goals of the trip was to learn about the successes of the existing Brightline transit options in South Florida and gather information about the upcoming service to Central Florida.  Brightline is the only major provider of modern eco-friendly high speed rail in the United States.  A company goal is to connect city pairs that are too long to drive and too short to fly.  Miami to Ft. Lauderdale are the city pair that is being currently serviced, reaching the Orlando hub is phase two and the Tampa hub is phase three.
Brightline is currently preparing for service to Orlando by high speed testing their vehicles.  In October 2022, the first 110 mph testing EVER began in Martin & St. Lucie Counties.  In February 2023, testing at 125 mph will begin along the SR528 corridor between Orlando International and Cocoa.  Speeds could reach up to 150 mph in the phase three service to the Tampa hub.  
Phase three is Brightline's Tampa Extension and will be an 83 mile alignment originating at the Orlando International Airport. There will be an estimated 18 trains per day in each direction (36 total).  Initial discussions suggest that the final stop in Tampa will be in the Ybor City area.  The next question on many of the tour participants' minds was - how do Brightline passengers get to their next destination from this terminal point on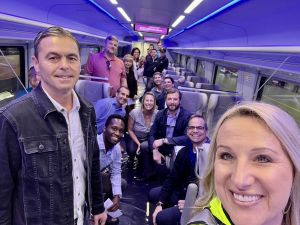 their rail trip?  How would a passenger get to Tampa International Airport or St. Pete/Clearwater Airport?  How would a visitor get to the award winning beaches of Pinellas County?  How would a resident get home or to work in St. Petersburg?  These questions motivate the Chamber's Transportation Committee to continue researching and collecting data regarding regional connectivity options in the Tampa Bay area.
St. Petersburg Chamber Transportation Committee Chair, John Barkett, was one of the trip attendees.  He shared, "It was impressive to see the new Orlando Brightline Facilities that have come to fruition via true regional partnership.  Looking forward to seeing through the completion of Brightline to Tampa Bay and rolling up our sleeves to ensure connectivity to Pinellas County and downtown St. Petersburg".