March 2023 Jobs Snapshot - PrideStaff
By: Ryan Adelberg
Business Development Manager, PrideStaff
Advocacy Chair, St. Pete Young Professionals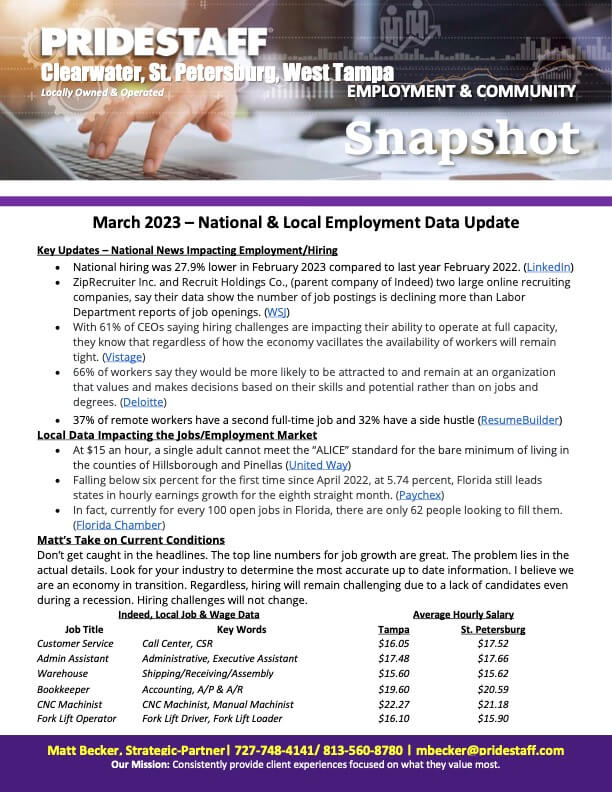 This monthly snapshot is robust due to the volume of information that is relevant to what is happening in the economy. My strong suggestion is for people to skip past the top line job numbers and look into the details. I am of the strong opinion the economy is in transition and slowing down. Here is why:
ADP Payroll Jobs Report - If you look at the report this month, private sector payroll rose by 242,000 jobs. When you dig deeper you will see that 100% of that growth was by businesses with 50 or more employees. For small businesses (below 50 employees) they lost 61,000 jobs in the last month.
Bureau of Labor Statistics - Of the 311,000 increase in payroll, 105,000 of it came from leisure and hospitality. Since October of 2022, Warehousing has lost 42,000 jobs (to highlight a sector)
Bureau of Labor Statistics - 419,000 people entered the workforce last month. That is good news...but..
National Energy Assistance Directors Association - 20.8 million Americans are behind on utility payments
New York Federal Reserve - Balances on home equity lines of credit increased by $14 billion, the third consecutive quarterly increase and the largest increase seen in more than a decade.
New York Federal Reserve - Total US household debt hit a record of $16.0 trillion during the 4th quarter of 2022.
All I want to raise is that the details matter. Small businesses and employees are feeling the full impact of the Feds raising rates and inflation. While the top line numbers are still good, when you look under the hood, you easily see why employees are demanding higher wages. You can also see why small businesses are struggling to maintain their budgets, people, & inventory.
From a pure numbers standpoint, this is a positive outlook.  However, keep in mind that the majority of these jobs aren't coming from small businesses which are the economic drivers of our communities.