Meet Dolphin Beach Resort | A Perfect St. Pete Beach Getaway
The Dolphin Beach Resort on St. Pete Beach is the perfect place to unplug and relax while soaking up the sun this summer. Located directly on the beach with oversized rooms that open up to the sand, the Dolphin Beach Resort has so much to offer! Stop at the Boca Sands Bar and Grille for breakfast and dinner, or their Flippers Beach Bar for a drink (or two) from 11 am - 10pm. For evening entertainment, the Boca Sands Bar and Grille has you covered with Karaoke on Saturday nights from 6pm until 10pm.
The Dolphin Resort is owned by Bryan and Shanna Glazer, principal owners of the Tampa Bay Buccaneers. The resort originally opened in 1966 as the Happy Dolphin. Over the years the name changed along with the ownership.
"St. Pete is an attractive destination because of it's beautiful beaches, friendly people, cultural options, warm temperatures and number of sunny days." - Niel Blake, Director of Sales
The Dolphin Resort recently hosted a visit for the St. Petersburg Chamber of Commerce. The group boarded the Sunrunner downtown and traveled to the St. Pete Beach Sunrunner station, just steps away from the Dolphin Beach Resort. They were treated to a tour of the resort, delicious food and drinks, and news of a completely reimagined resort to be completed later this year.
Whether you are looking for a weekend getaway, dinner and drinks at sunset, or planning a special event, the Dolphin Beach Resort has all the amenities you need in a breathtaking location.
SPECIAL DISCOUNTS FOR ST. PETE CHAMBER MEMBERS:
CLICK HERE for 20% OFF ROOM RATES!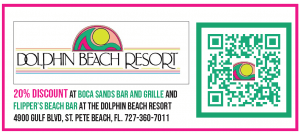 CLICK HERE for 20% OFF Food & Beverage!
Now Hiring:
Currently looking for Food and Beverage associates.