Seamless Connectivity Across Your Organization
SmartChoice is your voice carrier, internet service provider, collaboration software deployment, and service expert all wrapped up in one, streamlined platform. With offices already established in New York City and Springfield, Missouri, we are ecstatic to have opened a third office based in St. Petersburg, Florida.
SmartChoice's SMART Network solution offers a comprehensive approach to standardizing, scaling, and refining connectivity, communication, and Microsoft Teams Collaboration across all of a company's sites. This solution includes:
Connectivity: SmartChoice offers a range of connectivity options, including voice, internet, and collaboration services, such as Unified Communications, Microsoft Teams Voice Enabled Direct Routing, and ISP Services.
Visibility: The SmartChoice solution provides robust network monitoring and management tools, such as Smart Tile, Omnivoice analytics and reporting, advanced analytics, and CRM integrations.
Scalability: With a focus on growth, SmartChoice helps identify and deploy solutions for site-to-site connectivity, enterprise network design, and network security.
Dependability: SmartChoice's 24x7x365 US-Based Trusted Advisor support, combined with white-glove service from the SmartChoice Network operation center, ensures clients receive unparalleled assistance and reliability.
What truly distinguishes SmartChoice from its competitors is its comprehensive offerings and unwavering customer-centric approach. The commitment to white-glove service extends to on-site installations and adherence to rigorous standards like HIPAA and PCI compliance. SmartChoice's unique value lies in the convenience of a unified experience, offering a single bill and support number for all client needs, along with a single pane of glass network management for seamless control.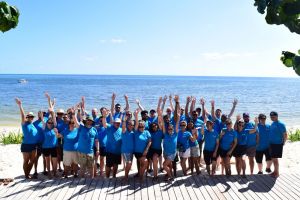 Founded in 1998, SmartChoice's journey has been one of adaptation, innovation, and an unwavering commitment to meeting the evolving demands of the business communications landscape. As the telecommunications industry continues to evolve, SmartChoice remains at the forefront, poised to provide innovative solutions that empower businesses to thrive in the digital age. With its strategic presence in St. Petersburg, SmartChoice is not only thriving but also actively shaping the city's future as a hub for technological advancement and innovation.
MEET ELISA CARO:
As the Chief Revenue Officer, Elisa Caro is responsible for the business, industry and marketing strategy at SmartChoice. Leading the sales team and their initiatives, under Elisa's guidance, SmartChoice's sales team has propelled the company through remarkable advancements and has achieved major fiscal milestones. She is the driving force in company efforts to market a unique suite of services that aid businesses with vital communications technologies. Making St. Pete her home in 2021, she has fallen in love with the city and is excited to work to become an integral part of the community.
WHY ST. PETE?
The decision to establish an office in St. Pete was a strategic choice driven by several compelling factors. From the outset, SmartChoice experienced a warm and welcoming reception from the St. Pete community. This sense of camaraderie and mutual support among local businesses resonated deeply with our company's values. This environment provides a nurturing ground for ambitious entrepreneurs, offering the ideal conditions for growth and success. St. Pete and Tampa Bay overall has rapidly evolved into a prominent technology hub, teeming with opportunities for innovation. This region's remarkable trajectory is marked by a growing population and a flourishing landscape of business development.
As the "Sunshine City" aligns itself as a nucleus for technological advancement, SmartChoice anticipates being an integral part of this exciting transformation. As these trends continue to shape the business landscape, SmartChoice is confident that its presence in St. Pete will not only thrive but also contribute significantly to the city's growing reputation as a center of innovation and opportunity.
"SmartChoice's solutions, combined with their Smart Tile network analytics, helped us find and fix problems with our network and communications systems that we couldn't see before. Our partnership and their implementation was key to turning things around and improving our system significantly."
Chris Diguette, CIO
US Eye, 70 locations
1500+ users
(SmartChoice Client)