St. Pete Chamber Supports Ad Valorum Referendum Question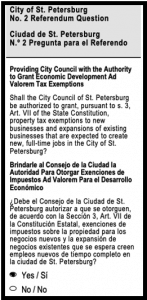 The St. Petersburg Area Chamber of Commerce supports the referendum for the economic development ad valorem tax exemption. This tax exemption is both an incentive tool and investment tool to ensure that our city remains competitive with not only other local municipalities that have this tool in place, but also other states that offer incentives that do not currently exist in Florida.
A primary goal of the tax exemption is to benefit local companies by helping them keep and grow well-paying jobs here in St. Petersburg. The Chamber commits to being actively involved with voter education to ensure that residents are aware of the overwhelmingly positive implications this tax incentive will have on the future of our community.
Two local companies have utilized the ad valorem tax exemption in the previous 10 year period, Jabil and ASI.  These organizations wanted to grow and add additional high paying jobs.  They were both able to stay here in St. Petersburg due to the tax exemption.  Jabil added 12 new jobs at an average wage of $95,000 and ASI added 66 new jobs at an average wage of $44,906.
The Chamber believes that this tax exemption is imperative to the continued growth of economic development in our city.  A "YES" vote for Referendum Question No. 2 will ensure that current local businesses can stay and grow in our community, and that new businesses will continue to be attracted to the Sunshine City.