The St. Petersburg Area Chamber of Commerce is focused on building a sustainable organization with a keen focus on our members, advocating at every level for those issues that change and protect the way we do business and lead on efforts to start new business, expanding those already here and attracting those who can contribute to our shared vision to grow smarter.
All while providing a warm welcome to those who visit the Sunshine City every day!
We offer the ideas, energy and resources of over 1300 businesses in our city.
Our members know & LOVE St Pete.
We have a proven track record for inspiring new initiatives and community innovations. ​
Our Purple orientation allows us to bring disparate ideas, concepts &  groups together for an inclusive conversation.
We facilitate the collision of energy and resources.  We believe going together creates a trust accelerating and defining our economic culture. ​
Greenhouse, Thrive, Ecosystems, Capital, Navigation, EDC, etc.​
Grow Smarter ​Leadership Alliance, Leadership & Workforce Development​, Storytelling​
Affordable housing, Transportation, Rays, Regionalism​​​
Purposeful connections – peer & affinity groups​, Events & Promotions​, Communications​
THE ST. PETE CHAMBER FOUNDATION
The St. Pete Chamber Foundation is a 501(c)(3) nonprofit affiliate of the St. Petersburg Area Chamber of Commerce. The Foundation supports our Chamber's four pillars by helping provide program development and resources for our members and the community at large.​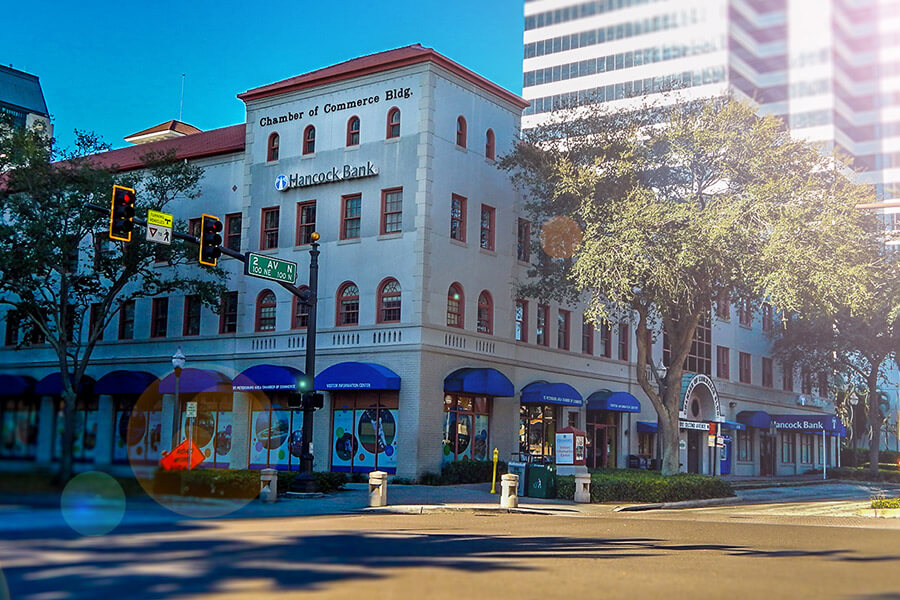 The St. Petersburg Area Chamber of Commerce shall be the preeminent leader of business in order to ensure the economic growth and vitality of our community.
Innovation. Excellence. Inclusivity. Accountability. Integrity.
We offer every member the sense of belonging to our city and the business community. We believe that, by coming together, our members will ensure the continued prosperity and vitality of St. Petersburg.
We're in the heart of #DTSP. Come visit us Monday - Friday 8 AM - 5 PM.